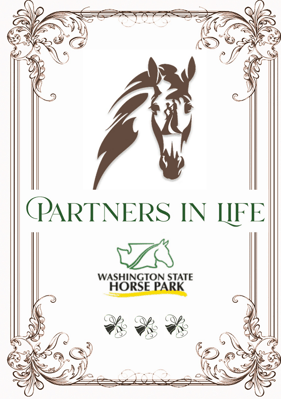 You are a vital part of the Park family.
The Park continues to grow and improve so it can be there to support you and the overall horse community, whatever your discipline or goals. Please take a moment to make a donation and help us ensure the Park is fabulous for years to come.
Our most urgent needs are described here. Every gift is appreciated, no matter the size, to get us to the total in each category.
50' Round Pen
There is nothing better than a round pen for a horse on it's toes. Help us make it happen.

Steel Noble panels 5 ft. high and 12 ft. long, joined with drop pins, 4 ft. bow gate, portable.

(Est. cost $2,775)

Obstacle Course Upgrades
Keep your skills sharp and your horse focused with new challenges.

Funds will pay for lumber, hardware and rental equipment to repair several obstacles, remove others and build 5+ all-new ones.

(Est. cost $1,600)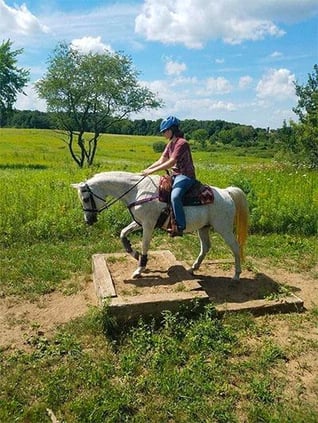 Rubber Mats for Remaining 4 Barns
The 80 stalls matted in 2019 have been terrific for horses, owners and Park staff. We want to do the remaining 80 gravel stalls for next season.

Funds pay to purchase and ship mats, take down barns, remove old gravel beds, level and compact 8" new base, lay mats and rebuild barns.

(Est. cost $24,000)

Cross Country Jump Construction
Off with the old, on with new jump designs and obstacle options. Many of our jumps have been around for awhile or longer! Time to update our look and ask new questions.

Build new cross country jumps and options for Starter through Intermediate levels.

(Est. cost $12,500)

RV Hook-ups
Who doesn't want to see what they're cooking and sleep comfortably? The demand for hook-ups just keeps growing and we want to accommodate.

These funds will add 4 double pedestals in the parking area south of the barns to accommodate 8 more hookups.

(Est. cost $9,750)

Rail Trolley
Think how easy it would be to set a course by driving around a trailer with rails of the same type stored together and at heights that are easy to manage!
A multi-level rail trolley will do all that plus store rails off wet ground where air can circulate to dry the wood and prevent rotting.


(Est. cost $4,500)

Wooden Rails and Stadium Jumps
Most of the Park's schooling jumps are second hand and showing their age. Help us upgrade clinic, camp and everyday course materials with "wind-resistent" wooden jumps.
Add 8+ new vertical and oxer painted theme jumps with fill. Also purchase 12 ft long, natural rails that will be painted white and can be used for many purposes (working equitation, dressage and cavaletti, trail obstacles, jumps of various kinds, etc.) which will save wear and damage to more expensive multi-color painted jump rails.

(Est. cost $9,400)

Sand for Arena West
One of the Park's oldest arenas needs some immediate TLC after 11 years of wear and tear from horses, equipment and weather.

Level, roll and compact current material and bring in 3"of new sand to provide loft, a softer footfall and less need for frequent grooming.

Est. cost $25,000)

Portable Bleacher Seating
Sure you can bring a chair along or stand, but wouldn't it be nice to have a firm seat waiting for you at ringside?

Add two aluminum portable bleacher sections that each seat 70 people and can be moved to desired locations around the arenas.

(Est. cost $8,000)

Use Where Needed Most
Park management always appreciates leeway from supporters to use funds where they can be leveraged for greatest benefit.

Other important and urgent needs
Second water truck, $40,000 DONATED - 11/15/2021

Replace 11-year-old Kiser drag, $30,000

Amend Arena #2 with felt/fiber/other, $100,000

Wind screens for covered arena, $180,000

Install high-speed broadband Park-wide, cost TBD

Covered Arena PA system, cost TBD
See what your donations have already helped us accomplish!
The Park is a 501(c)(3) charitable organization; donations are tax-deductible to the extent allowed by law.
If you are interested in helping fund any of these major items, please contact: Executive Director, Leslie Thurston, at 877-635-4111 or director@wahorsepark.org
* 10% of project-specific donation may be used for project management, and any project(s) that receives insufficient funds to move forward will either be allocated additional funds from those who selected "Use Where Needed Most" or the funds for that project may be redirected to complete another project. Remember, all these projects are priorities and will benefit many horse people.
The winning volunteer will be selected in January and will have a choice of an English bridle from the top-of-the-line collection at Olson's Tack Shop or a western bridle consisting of headstall, bit and reins from Old Mill Country Store.
The Park is a 501(c)(3) charitable organization; donations are tax-deductible to the extent allowed by law.


THANK YOU TO ALL WHO SUPPORT THE HORSE PARK!
And THANK YOU to our generous bridle donors!